Working remotely has for a while been unjustly misconstrued. The notion of the employer is that remote workers are far less productive when compared to their in-office counterparts. The idea of working from home or any place of convenience has been viewed as a waste in the workforce. Employers believe that these workers are subjected to all kinds of distractions at home and this, in turn, hampers productivity. Well, research has a contrary view to this. We will be discussing a few reasons why remote work improves efficiency and productivity.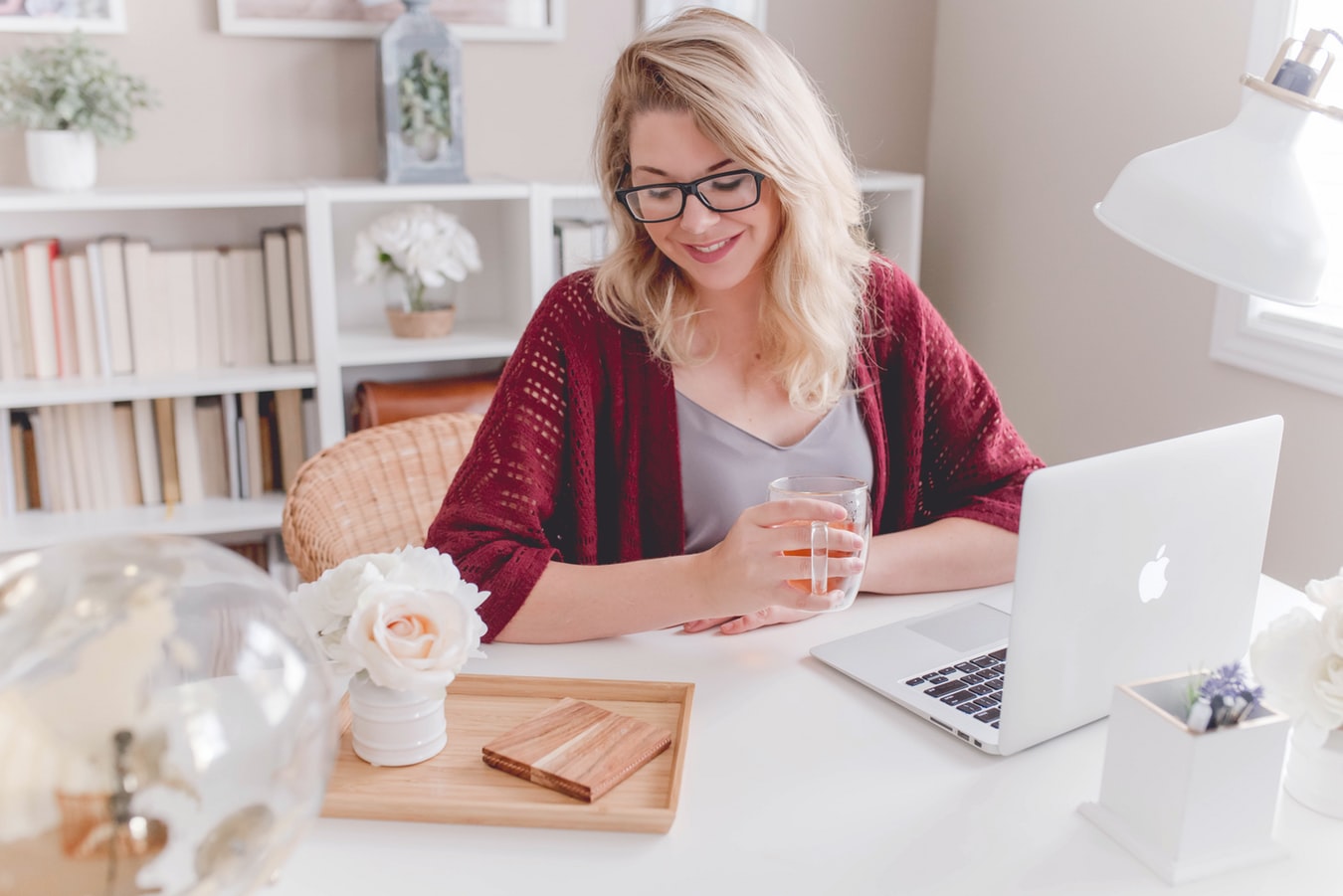 Working Remotely Increases Productivity
Working Remotely Increases Productivity According to statistics from SurePayroll, a web-based payroll provider for small businesses, 86 percent of people surveyed said they preferred to work alone to "hit maximum productivity". Distractions in the office like impromptu meetings, office gossip, etc are reduced to the barest minimum. Also, two-thirds of managers say employees who work remotely increase their overall productivity. This is made possible because remote workers seldom take time off, and sometimes work even when sick.
It Increases Employee Efficiency
There is bound to be a significant increase in efficiency with little or no distractions, especially the disciplined remote workers. Working from home gives the workers a certain control over their personal lives and allows them to plan their work-life balance accordingly. This makes them happier and fulfilled and this naturally increases efficiency. Also, remote workers are self-motivated in being efficient in order to be able to continue in that comfort zone. According to the U.S. News & World Report, remote workers tend to put in 6 to 7 more hours per week than on-site employees.
It Lowers Stress and Boosts Morale
According to a study on remote work, 82 percent of telecommuters reported lower stress levels and that, of course, is good news for not just the remote workers, but also the company they work for. The study by PGI, a leading provider of software services, found that 80 percent of workers reported higher morale when working from home, while 69 percent reported lower absenteeism.
Reasons why people choose to work remotely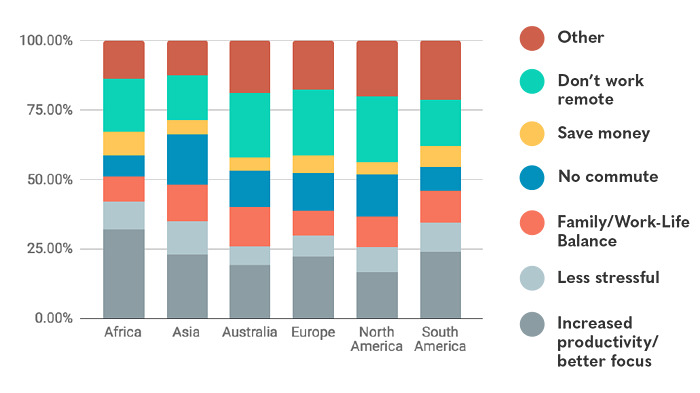 It's a Global Phenomenon
In a global survey by PGI, 79 percent of knowledge workers said that if they could, they would leave their current jobs for a full-time remote position at the same pay rate.
Remote work isn't detrimental to productivity or employee engagement
A recent study on "'the state of remote work" by TINYpulse and Owl Labs found that remote employees have "slightly higher levels of investment in their work", and benefit from "clearer boundaries and work habits" needed to be successful. Based on the response from 1,097 workers across the U.S., which affirms previous research findings show that people who work from home are fully engaged with fellow team members, and often are more productive.
More Companies are Embracing "Remote Teams".
Companies are increasingly embracing "remote, agile" teams to complete projects and meet deadlines, according to a study by the freelancing website Upwork. The survey of more than 1,000 U.S. based managers found that the continuing "skill gap" is driving the trend toward hiring more virtual workers. The study concludes that many of those companies have yet to implement a formal remote work policy. It Meets Demand of Younger Worker A staggering 68 percent of job seekers who are millennials said an option to work remotely would greatly increase their interest in specific employers, according to a survey by AfterCollege, a career network for college students and recent graduates. Policies that cultivate a flexible, fun, and casual work environment have a positive impact on young people and the kind of employer that will interest them.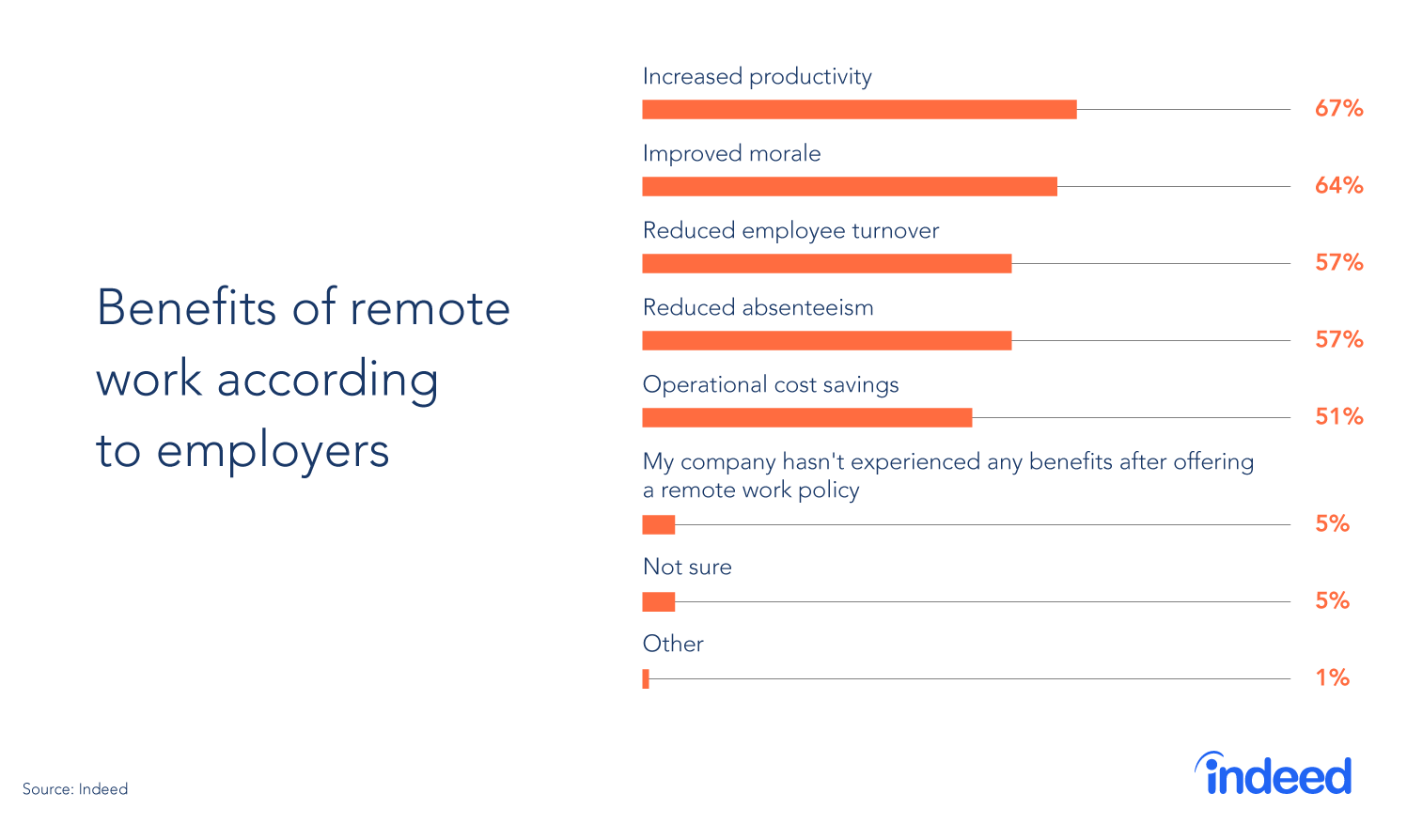 Employers and managers have the notion that collaboration and communication among teams suffer when workers are not all in attendance on-site. However, according to Global Workplace Analytics, once employers have a successful experience with a remote work environment, the following was discovered:
95 percent of employers surveyed stated that allowing telecommuting increases employee retention rates.
37 percent of teleworkers interviewed stated that they would take a 10 percent pay cut in order to continue work remotely. The savings from commuting, meals and so on, they believe, are most likely commensurate with the proposed pay cut.
Employers also stated that remote workers tend to return to work sooner following health issues.
Managers in large enterprises state that teleworkers are more productive than their counterparts on-site.
A remote working team guarantees its employer the following:
Round the clock services.
Extra working hours with little or no time off.
High efficiency and productivity as a result of a less stressful, quieter, happier and more comfortable working environment.
There's less turnover and absenteeism for the Employer to deal with.
These attributes of a remote worker should inspire confidence in employers. They should trust that more jobs can be done using remote work without compromising on quality.
Implementing a Remote Work Policy
A few basic steps are needed to implement a remote work policy. Firstly, your workers must be equipped with the three things they need to succeed which are; adequate technology, disciplinary excellence, and clear instructions. Secondly, ensure your workers have a laptop, tablet or desktop that can help them tackle their various tasks. It is also important to invest in a company-wide software sponsorship program that allows them to install important software directly to their personal devices. Thirdly, it's pertinent that you stress disciplinary excellence. Working from home requires minimal supervision. You become the boss of yourself, hence the need to be disciplined so as to get things done on schedule. Finally, clear and concise instructions should be handy to guide your remote workers to do their job effectively.
For effective collaboration and communication among the workforce, necessary technological tools are needed like the tool for video conferencing, file sharing and time tracking in a bid to make team collaboration easy and productive.
Our team of experienced remote software engineers provides the needed monitoring, communication network and enabling environment your company workforce requires to operate remotely and function effectively to achieve high productivity. This will keep your company head and shoulders above its competitors.
---
Launching a new JavaScript project? Need help on an existing project? Work with us